This little boy's name is
Tyler
...smart, very cute, loving. Tyler is also a rescue. He wandered into a yard on a Thanksgiving Day and found himself a loving home. We'll never know the story behind Tyler, or any of the other pups waiting in shelters across the country but we do know one thing. In this case, one person's carelessness, cold heartedness or possibly even an unavoidable accident of life became another person's very bright spot in life!
We appreciate Tyler's mom's generosity in letting us use his picture. It helps spread the word behind the mission of
Astrid's Etsy bandana boutique
. Doesn't he look proud modeling his Astrid Nicole Etcetera bandana? The proceeds from it's purchase go to aiding other shelter pets who find themselves in the same straits as he once was in. At Astrid's former shelter, the
Santa Cruz Co Humane Society
in Nogales, AZ, all of the friends she left behind are welcome in the shelter for as long as need to be there, whether it is a day, a week or a lifetime. Hopefully they too can go from this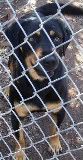 to a happy, loved and loving boy like Tyler. If you are thinking of getting a new companion, remember Tyler, Astrid and all the wonderful pets in shelters and consider adopting.
(Later picture is Astrid, December 2006 just before coming to live in her forever home with her mom and dad.)